By: Tom Comet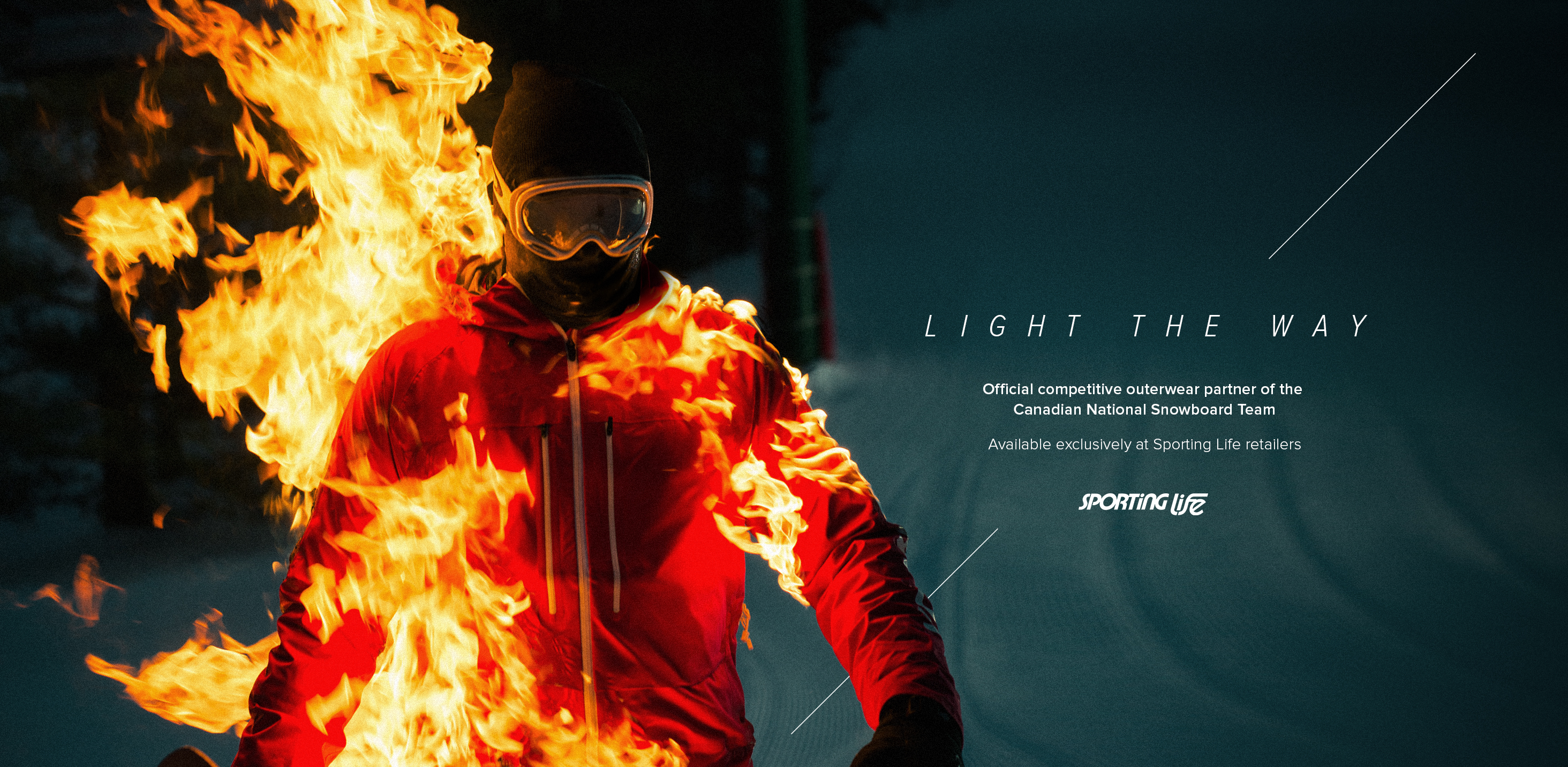 Of all the crazy stunts and effects that we perform around here at DangerBoy, the body burn stunt has to be the most impactful, awesome and emotionally powerful.  There is something primal that takes place in your brain when you witness another human being completely engulfed in flame.  This insane vision short circuits your audience's synapses, gives them an adrenaline rush and makes them feel a little bit sick all at the same time. This is why the body burn stunt is such a great story telling tool.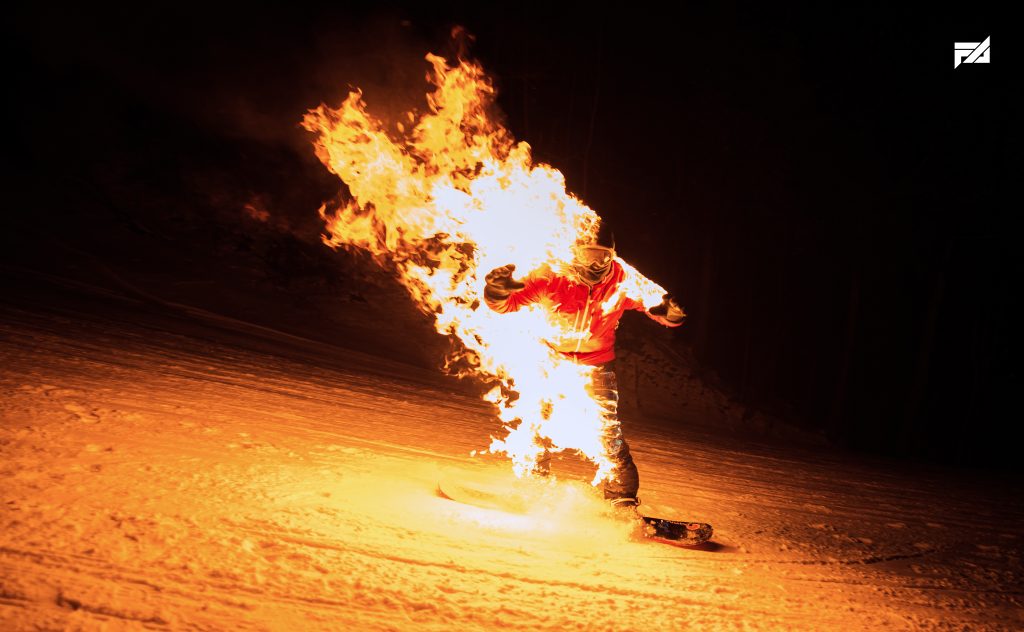 We were reminded of all of this recently when we were contacted by the company Ad Hoc Content in Toronto to assist them in creating a series of amazing images and short video clips for FA Design Outerwear for their web site and a social media campaign.  The images were created to draw attention and support for the Canadian snowboard team at the Winter Olympics in South Korea.
The concept for this shoot was relatively simple but, as usual, it combined a bunch of things we do that we had never attempted together before…  In this case we had to combine a full body burn stunt while riding a snowboard wearing some snazzy FA Design technical outerwear on a ski hill at night.  Now that is a stunt brief that we can get excited about!
Normally when we implement a burn stunt like this my team gets a little more control over the costume materials and the physical choreography of the gag (running, jumping, falling etc.)  This time our stunt performer (me) had to wear very specific clothes and actually ride a snowboard… Luckily, I'm an experienced snowboarder and have been practicing the fine art of the body burn stunt for close to twenty years.  Still, it was not going to be easy…
Ironic as it may sound, safety is our number one concern here at DangerBoy.  You simply are not able to continue with a successful career in stunts and special effects if you have 3rd degree burns from head to toe.  We NEVER attempt anything like this without knowing exactly what we are doing and taking all the appropriate safety precautions.
KIDS, DON'T TRY THIS AT HOME!!!
As with all burn stunts, my life would be in the hands of my fire safety team so I chose them carefully from the guys I have worked with before and trusted completely.   The week prior to shoot we met and briefed the stunt thoroughly from top to bottom.  We listed every step of the process from stunt prep and dressing through to emergency procedures and protocol. We tested the costume materials to be used and, pardon the pun, performed some warm up burns at the shop.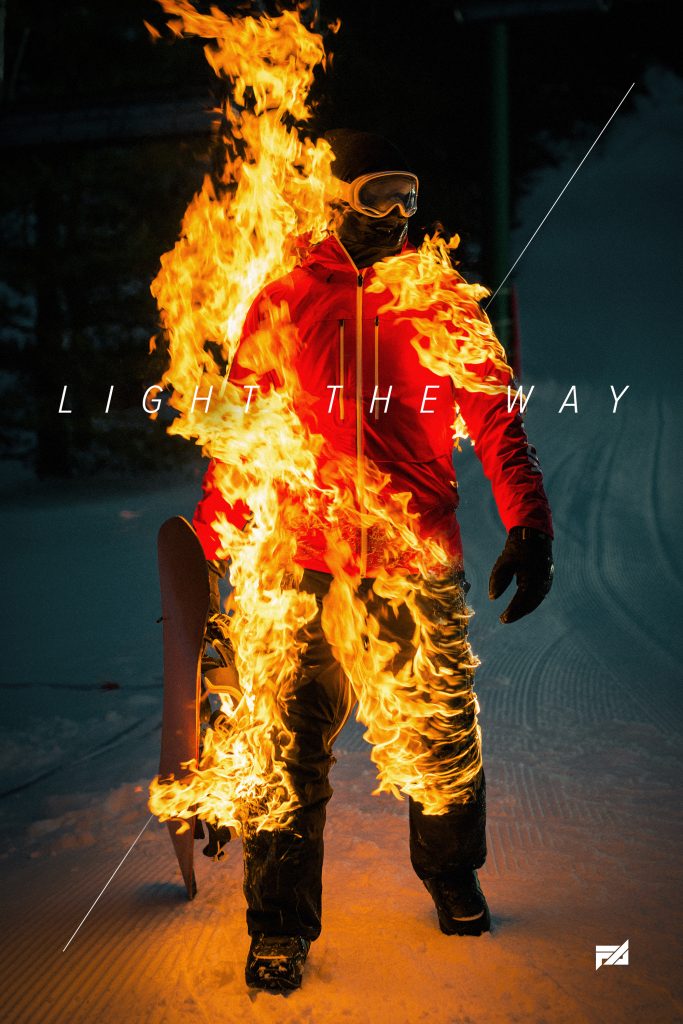 The body burn stunt is a daring dance full of complicated choreography.  Miss any one step in that choreography and you could be wearing those scars reminding you of that for a lifetime.  Like all good choreography it has to be rehearsed and perfected so that it can be done perfectly under pressure.  For me this means first talking then walking through each step of the process with my team.  Next, we mime through all the action with the props and costume but no real fire. Once we all know exactly what is required and where we need to be when, we rehearse the choreography with real fire a number of times increasing the size of the burn each run through until we get to the scale required for the stunt "on the day".  If at any point there is too much heat or any technical or safety issues we STOP, go back to the drawing board, talk it through and start again.  In the case of this stunt we even took a day at a local ski hill to all re acquaint ourselves with that environment. This was all done well in advance of the big shoot day.

By the time we got around to doing the stunt on the day we were all so well-rehearsed that it almost felt easy.  Everything went completely as planned and the effect was even better and more impactful than anyone had imagined.  The director of photography, Brooks Reynolds captured a series of stunning images and video and the client was ecstatic with the results.  The ad campaign got a lot of positive attention and we are just so pleased to see a new and exciting context for an age-old stunt.  Congratulations to everyone who was involved, well done!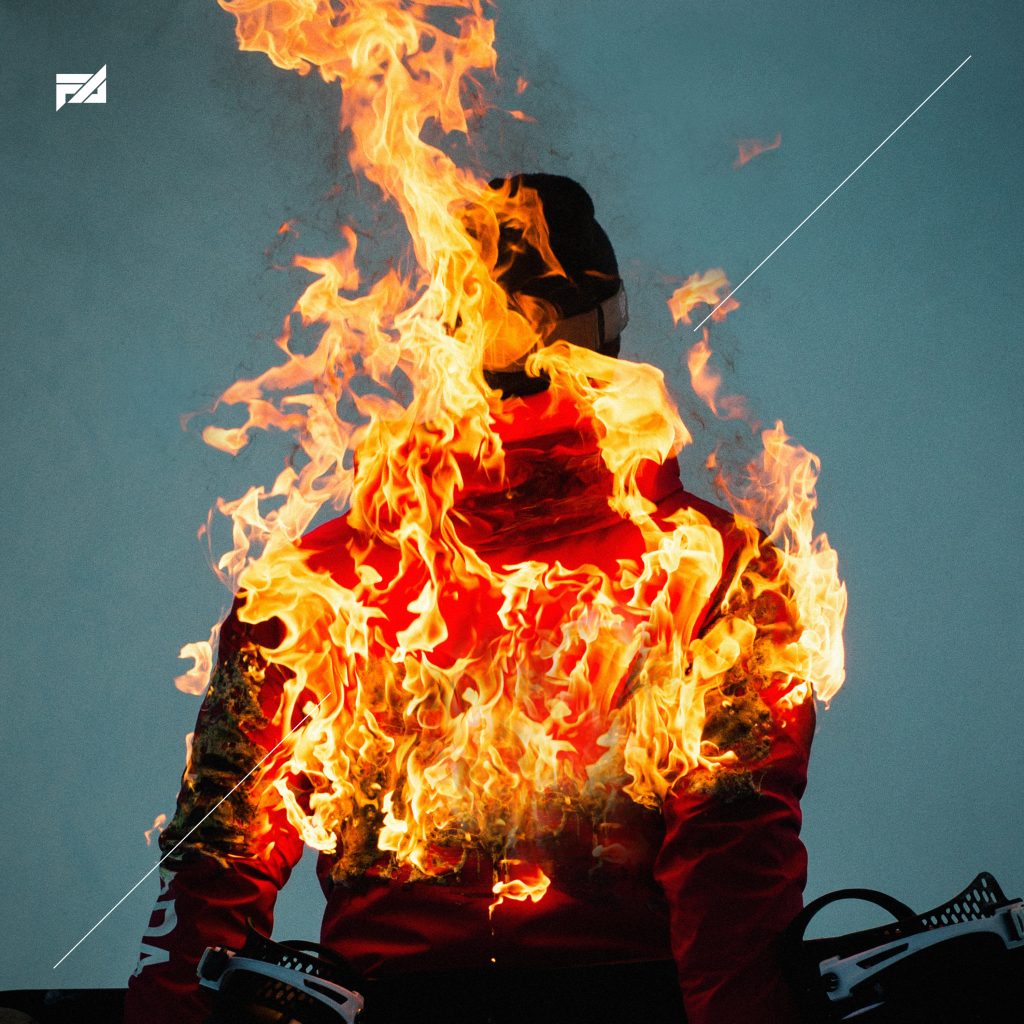 To find out how we can create impactful and original stunts to draw attention to your story contact us today.  Want to learn more about out full body burn stunts in particular?  Swing by our body burn stunts web page.