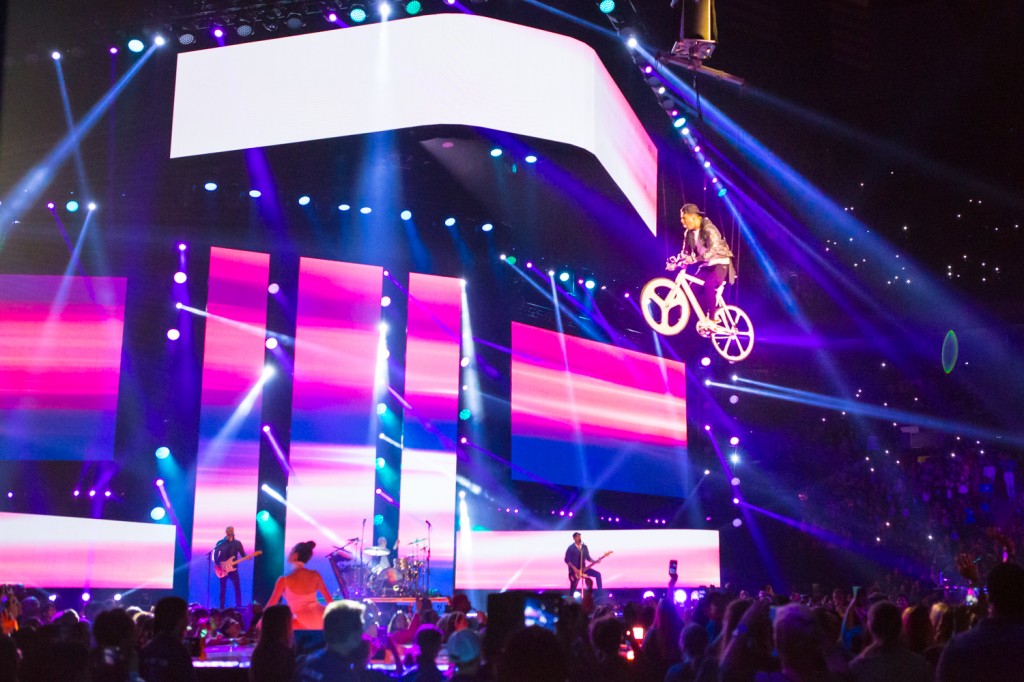 The DangerBoy rigging team just finished up WEDay Toronto where we provided two unique flying effects for the concert event and the live TV broadcast.
The first flying effect was for the lead singer from the band Hedley and this one proved to be a very challenging indeed. The goal was to reenact a scene from Hedley's recent music video Can't Slow Down where the lead singer Jacob Hoggard is seen riding his track bike through various scenes and dance sequences.
For the WEDay Toronto live event we set up an automated 2D rig build around our VisualAct flying winch system. This 2D fly system enabled us to fly Jacob from one stage at the Air Canada Centre (ACC) to another about 15' above the stage deck with millimeter precision. Next came the really tricky part… In order to make this effect work our team had to fabricate a custom, wireless rotate head so when the rider changed directions and came back across the stage in the other direction he was facing forward at all times. We also had to build a custom, fully adjustable spreader bar to suspend and balance the bicycle and the rider while suspended in the air. Phew…
For our second fly gag at WEDay Toronto we orchestrated a complex lowering effect where Jason Derulo appeared "from out of nowhere" and flew down onto the stage deck. Here again, we used our high speed, performer rated winch system but thistime in a simplier lowering configuration. The trick here was that for this act we had to load the performer onto our system from the catwalk 100' above the stage and get him out into his start position on the high steel beams that support the roof of the ACC. Now, our team regularly traverses beams 100' up and higher and for us this is easily done. A-list rock stars like Jason Derulo aren't so accustomed to heights so for this stunt we had to design the rigging and the choreography with him in mind so that he was safe, comfortable and felt 100% confident in the stunt at all times. This gag was the opening to his song and dance number so he had to perform immediately after the lowering stunt so there could be no hickups or missed cues getting him to the stage.
Both our flying stunts at WEDay Toronto worked flawlessly and really impressed both the live and TV audience. The live nature of the event added extra stress but made it all more exciting as well. The show was a huge amount of work but our team rose to the task and pulled it off flawlessly. Thanks to everyone who was involved and helped out along the way, we are looking forward to doing it again next year!