A few years ago the Danger Boy team had the fantastic opportunity to work with Sir Richard Branson and the Virgin Mobile Group to create a dynamic stunt for their "Escape Your Cell" live event.  We were asked to both stunt coordinate, rig and fabricate all the props for a live stunt to be performed by Branson himself.  The show was to be held at Yonge-Dundas Square in the heart of downtown Toronto.
Branson gave interviews all morning from a jail cell situated in the middle of the square.  His cell was a poke at other cell phone companies and how, at the time, they didn't make it easy to change providers and keep your current number.  With the new number portability rules in Canada, Branson wanted to make certain that everyone knew that they now had the power to change providers and keep their old phone number.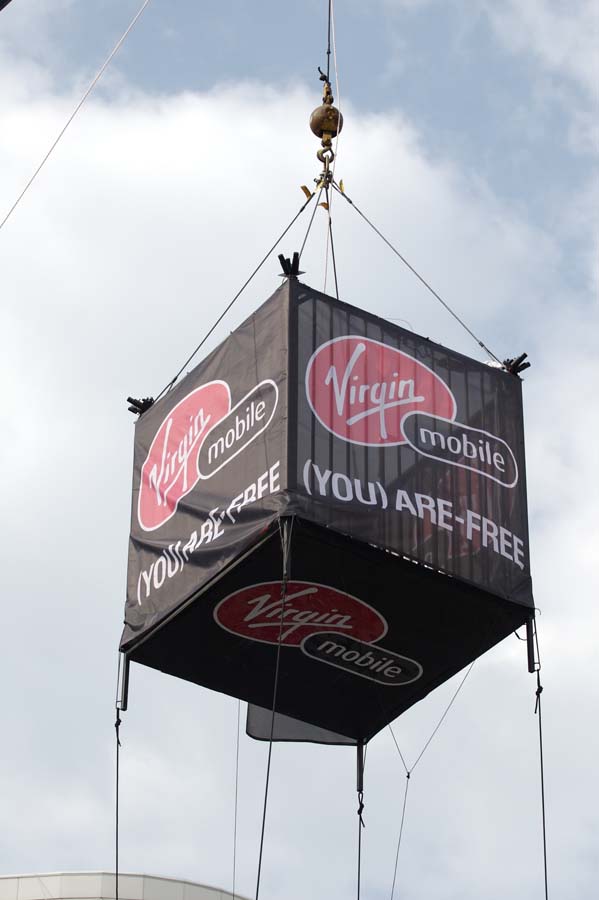 The Virgin Mobile stunt that we implemented involved Branson himself shackled inside the steel jail cell hoisted fifty feet above the square suspended only from an industrial crane.  Suddenly there was a huge pyro explosion, the jail cell blew apart in mid air and Branson was free!  He then threw down an exceptionally long bed sheet (as you do when escaping from jail) and climbed down to safety.  The crowd went wild!
"I felt totally safe and secure.  The stunt went completely according to plan and was a huge success"
~Sir Richard Branson – Virgin Group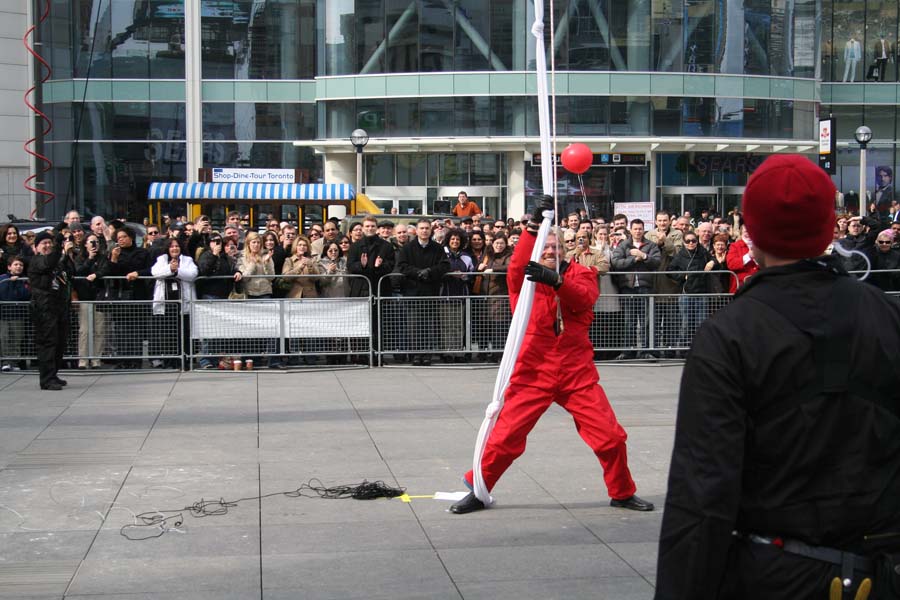 This was a challenging, stressful and extremely fun project for us.  It brought together many of the components that Circus Orange does best – stunts, rigging, fabrication and pyrotechnics.  The tricky part here was that the stunt was not going to be implemented by one of our trained stunt professionals but rather by the A-list celebrity Sir Richard Branson.  The other exciting part was that Branson was scheduled to arrive the morning of the stunt and our lead stunt coordinator, Tom Comet, would have a mere 15 minutes to brief him on his role.  To say that this stunt had to be "turn-key" would be an understatement!